Posted on
By Little Thingz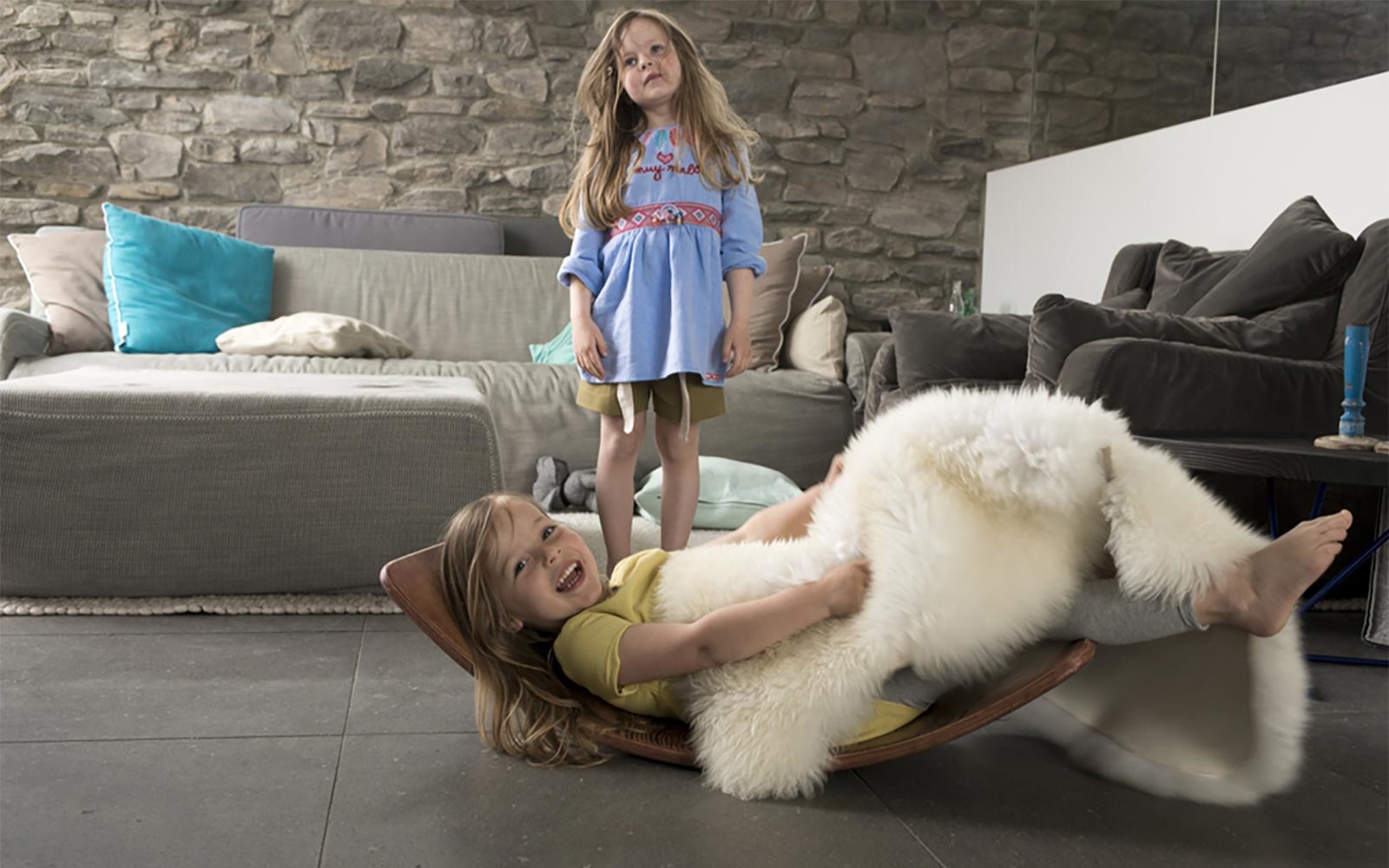 Balansbord, schommelbord, loungebord, olifant, fitnes of racebaan...
Wat is een Wobbel?
De Wobbel is een balansbord voor zowel jong als oud. Een wobbel stimuleert beweging en de motoriek. Kinderen zijn van nature zeer vindingrijk en weten direct wat te doen met zo een balansbord. De Wobbel kan zowel door kinderen als volwassenen gebruikt worden om te turnen of lichamelijk oefeningen, yoga en balansoefeningen mee te doen. Er zijn vrij veel turnoefeneningen te bedenken met zo een wobbelbord of balansbord. De Wobbel is geschikt voor alle leeftijden van 0 tot 99 jaar. Peuters spelen er uiteraard iets anders mee dan volwassenen. De Wobbel Original en Pro met vilt zijn CE gekeurd en kunnen vanaf 0 jaar gebruikt worden. De Wobbel Original met kurk is eveneens CE gekeurd en kan vanaf 3 jaar gebruikt worden.
De Wobbel Original en Pro zijn CE gekeurd tot 200 kilo. Ze zijn 90 centimeter lang en 30 centimeter breed. De Wobbel Starter is CE gekeurd tot 100 kilo. Deze is 70 centimeter lang en 27,5 centimeter breed. Plaats genoeg dus voor een volwassene of een kind.
Wobbel gebruikt alleen de beste materialen waardoor het een zeer duurzaam en mooi product is. Kinderen of volwassenen raken het nooit beu omdat ze steeds nieuwe mogelijkheden zien. Bovendien kan zo een balance board van ouder op kind en generatie op generatie doorgegeven worden.
Het merk Wobbel werkt en produceert met de beste houtbuigerij van Europa. De Wobbel is gemaakt van duurzaam geperst FSC Europees beukenhout en is behandeld met kindvriendelijke lakken en beitsen. Zelfs het wolvilt en het duurzame kurk zijn natuurproducten.

1.Wat kost een Wobbel?
De prijs van een Wobbel begint aan 79 euro (Wobbel Starter). In onze webshop staan meerdere modellen balansborden. Je vindt er vast en zeker een balance board dat bij jullie thuis past.

2.Tot hoeveel kilo kan een Wobbel dragen?
De Wobbel Original en Pro zijn CE gekeurd tot 200 kilo. Het Wobbelbord Starter is gekeurd tot 100 kilo.

3.Waarom is kurk pas vanaf 3 jaar geschikt?
De kleinste kinderen kunnen aan de Wobbel beginnen pulken. Als ze de kurk inslikken bestaat er verstikkingsgevaar. Dan is een balansbord met vilt een betere en veiligere keuze. Er wordt steeds een handleiding met je Wobbel meegeleverd.

4.Ik heb een bepaalde vloer in huis. Wat is het beste?
Voor harde vloeren als laminaat, hout, steen, tegels en linoleum kan je beter de Wobbel met vilt of kurk gebruiken. Dit beschermt zowel het balansbord als de vloer en maakt minder geluid. Bij kwetsbare vloeren is een vloerkleed of speelmat sowieso aan te raden. Met een tapijt als ondergrond kan je ervoor kiezen om niets onder de Wobbel te leggen.

5.Het verschil tussen wolvilt en geperst vilt?
De Wobbel Oringinal is afgewerkt met wolvilt. Wolvilt is gemaakt van natuurlijke vilt en zonder vieze chemicaliën. Het is slijtvast, beschermt je vloer en je Wobbel en is geluidsdempend. Er bestaan 6 kleuren standdard vilt. Kijk hier in onze webshop voor alle mogelijkheden. Wolvilt is iets duurder maar werkt hetzelfde als geperste vilt.
De Wobbel Pro is afgewerkt met geperste vilt gemaakt van PET flessen. Daarom is de Wobbel Pro zeer geschikt voor intensief gebruik. Net als het wolvilt reduceert het geluid en is het beschermend voor je vloer en balansbord. Geperste vilt is iets goedkoper maar zeker evengoed als wolvilt.

6.Hoe een Wobbel onderhouden?
Het proper maken van je Wobbel doe je best met een vochtige doek of een zeer milde zeep en daarna zeer goed droogwrijven. De kurk en vilt van je balance board kan je best stofzuigen en proper maken met een lichtvochtige doek met eventueel ossengalzeep.
Tot slot.
Voor een ruim aanbod aan duurzame Wobbel balansborden kan je hier terecht.